Augmented Reality Games Like Pokemon Go Secrets
After the rise in popularity of Pokemon Go, augmented reality games like Pokémon Go for Android started ruling the gaming industry with their arrival. According to Guinness World Records, Pokémon Go generated the highest revenue as a mobile game in its first month, at $207 million. The reason is the conjunction of the real and virtual worlds in these AR games. All the players enjoy the fantasy objects, creatures, and adventures of a game in the actual world. So, we have listed 15 augmented reality games similar to Pokémon Go for Android users to enjoy and play.
15 Augmented Reality Games Like Pokemon Go
Temple Treasure Hunt
It is one of the most popular AR games like Pokemon Go. This game lets you choose between exploring existing treasure trails or create one as per your choice. You also get an option to choose to play it inside your home or outdoors.
The game aims to find the hidden treasure in the surroundings with the help of an interactive map. Also, your device shares the GPS location with the game app, which helps in treasure hunting. Finally, when you find the treasure, the screen shows it as if the treasure is real.
Knightfall AR
Another one of the AR games like Pokemon Go is Knightfall AR. It takes you back to the time when knights protected the kingdoms. This game also works on the same principle as saving the city from invaders. Battle with the trespassers and defend your kingdom.
You move around and protect the treasure of the city. For each win, they reward you with coins and upgrade levels. You can change your character and get more advanced weapons and armors.
Zombies, Run!
Zombie, Run! Is another one game like Pokemon Go for Android and iOS devices, which comes under the Health & Fitness app category. Thus, it became a fitness game, instead of a regular AR game, when it came out in 2012. It sets this game in a small outpost called Abei Township, which is trying to survive amidst a zombie apocalypse.
The players run around the town and collect things necessary for the survival of the city. They go through a series of missions, acting as a "Runner 5" character. Also, they continuously listen to various narrations to solve mysteries.
This game got famous for its storyline and engaging content. The players go for running in a fun way and stay fit. That is why it became the highest-grossing app within two weeks of its release for being a mobile health app.
Angry Birds AR: Isle of Pigs
As a fan of Angry Birds, you must have played its game at least once. However, this time, it has become like games similar to Pokemon Go, with augmented reality. They will display the entire game as the actual world with fantastic characters. It brings Angry Birds to the actual world and makes them realistic.
In this game, you can walk around the paths and roads, to find distinct elements for the game. You can adjust the device for better accuracy. Also, you can take on the greedy pigs, earn points, and unlock extra levels and content. The game also allows you to customize the game as per your space.
Sharks in the Park
Sharks in the Park is one of the geospatial AR games like Pokemon Go for Android users. It would be best if you played this game outside as per your GPs location because it requires an unrestricted view of the sky. With the use of Mixed Reality Motion Gaming, this game merges the virtual and real worlds. Also, if you can find a large ground, you will enjoy this game more.
In this game, an underwater world displays on the screen. The players feel as if they are underwater because of the augmented reality. Also, the game app senses your movements through GPS location. So, if you will run fast in actual life, the game coordinates with you and makes your speed fast in the digital world.
Jurassic World Alive
Are you looking for games similar to Pokemon Go? Or perhaps even better? Then, go for Jurassic World Alive if you are a fan of prehistoric era and creatures. With this game, you will find velociraptors or pteranodons running down in your city. You can explore the areas around you and collect items to create your raptor.
Moreover, you can fight with other creatures in the real-looking world. The game's graphic makes it exciting and realistic to view and play it. Also, the dinosaurs stronger and dangerous than yours can destroy you.
Army of Robots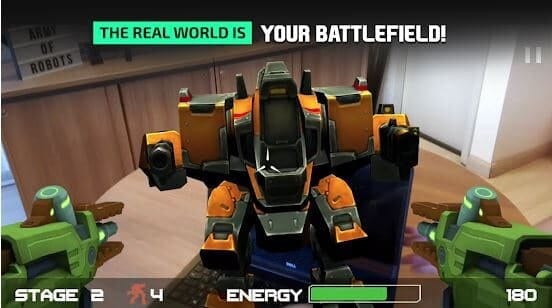 Army of Robot is another one of the shooter AR games like Pokémon Go for Android and iOS devices. In this game, the invaders are robots, who destroy your world. They have only one mission, and that is to kill humans and rule planet Earth. So, eliminate these robots before they take over your world.
You can play the game anywhere you want to; be it your office, home, park, school, or even roads. You just point towards the robots with your cell phone and shoot them. So, destroy the robots before they come to kill you.
The Machines
The Machines is one of the high-graphical and sleek AR games similar to Pokémon Go. In this game, you battle in augmented reality with fantastic 3D sound and breathtaking graphics. The game uses your actual position and movements. It means you can use weapons and other abilities by adjusting your cell phone and aiming strategically on the AR battlefield.
The audio system of the game sounds like the real world. The sound also coordinates with your movements; if you are closer, you will hear loud noises. But, if you go away or disappear, the audio changes with it.
Download Now
Ingress
Ingress is another one game like Pokemon Go for Android and iOS devices, developed by Niantic Studios. This game uses your geographical location to create "portals" in the actual world of the player. So, you can interact and locate portals at any public places near you, where art is displayed. Art includes statues, architecture, historic buildings, murals, or any display of human creativity.
This game has a specialty to create a backstory for these portals. You will get a continuous narrative of the story through various forms. Further, the game provides you with a map of your surroundings, with all the areas, including water streams, roads, public places, and portals. So travel and visit the portal to capture the flag before any other player.
Reality Clash
Reality clash is another one game similar to Pokémon Go, based on AR combat. It uses your GPS location and sets the surrounding like a real-world battlefield. Explore the surrounding areas, spot your enemies, and shoot them.
This game turns the actual sites into the digital world, with a map of the city. Find the resources and take part in the battles. People who love combat games will surely enjoy it for its augmented reality and real-life fighting with weapons and avatars.
Ghostbusters World
Ghostbusters World is another of the top-rated AR games like Pokémon Go for Android and iOS users. This game is entertaining, as you have to find ghosts in your real world. It has an affiliation with the Ghostbusters franchise, so you will discover proton beams and dimensions in the game as well.
Further, you can play this game as a multiplayer and team up with other Ghostbusters. With your team, you can clear areas infested by the ghosts and gain valuable resources to strengthen yourself. The game also shows the dimensional door between the ghost and human realms. Mostly, ghosts come through these doors into our world. You will get several weapons and materials to bust the ghosts as well.
WallaMe
WallaMe is another one game similar to Pokemon Go, which combines augmented reality and social activities. You have time to leave hidden messages for your friends. The game app takes a picture of an actual location around you and lets you add text in it. Then, you can share it with your friends, so they come and discover the message.
You can use this app for free and keep the messages public or private. However, only the users of this app can see those messages. This AR app comes with drawing tools, stickers, social sharing, geolocation, and camera usage.
Download Now
The Walking Dead: Our World!
The Walking Dead: Our World is one of the popular AR games like Pokémon Go for Android and iOS mobile phones. They base this game on a real-world invasion of zombies. So, the players have to fight these walking dead creatures, explore the surroundings, shoot the zombies, and save the world, along with discovering valuable things.
Further, you can play this game as multiplayer and add your friends to it. You can also upgrade unique items, such as guns, weapons, characters, and other things. The players can form a group of friends to collaborate for the game and save the world together.
Download Now
Harry Potter: Wizards Unite
Harry Potter: Wizards Unite is one of the most famous games like Pokémon Go for Android and iOS devices. The players can cast spells, discover mysterious locations and objects, and beasts the same as the Harry Potter, but in the real-world surroundings.
This game is like the actual Harry Potter. You fight against mythical creatures, choose your wizard house, wand, and different professions. Initially, create your avatar in this game. The location of the game will adjust as per your GPS location.
Further, you find confounded items and objects in the game, same as the Harry Potter world. Also, you can fill up your spell power, gain new potions, grow fresh ingredients, and fight beasts and creatures to win it.
Download Now
Egg, Inc
Are you looking for entertaining games similar to Pokémon Go? Then, play Egg Inc. and develop a small chicken farm in your home. This game has chickens, eggs, hatched houses, and sales from this farm. You can also use in-app purchases for fast progress.
The bright display and graphics make you feel as if the entire farm is in your home. You can upgrade the farm, take on the missions, and find materials for growing the farm. The background music pulls you into the game and makes it more real.
Final Words
You can download and play these AR games like Pokémon Go on your Android devices. You have the list of the top augmented reality games similar to Pokemon Go here, so enjoy and have fun!
FAQs
Are there any other games like Pokémon Go?
Definitely, there are several games similar to Pokémon Go that are based on augmented reality. Some games are Ingress, Harry Potter: Wizards Unite, Ghostbusters World, Army of Robots, and many more.
What games use Augmented reality?
Augmented reality is a combination of gaming with the real-world environment. Augmented reality games like Pokémon Go apply the digital objects and create the playing field, in reality, using devices like Android smartphones, tablets, or other systems.
How does augmented reality work?
Your device takes the actual world into its vision at first. Then, the camera recognizes the objects and develops the frame of the AR game over them. It uses the 3D position and orient the device as per the vision.